Electronic Laboratory Notebook Introduction - Past, Present and Future of ELN
ELN Synonyms
It is called Electronic Lab Notebook or Electronic Laboratory Notebook, abbreviated to ELN.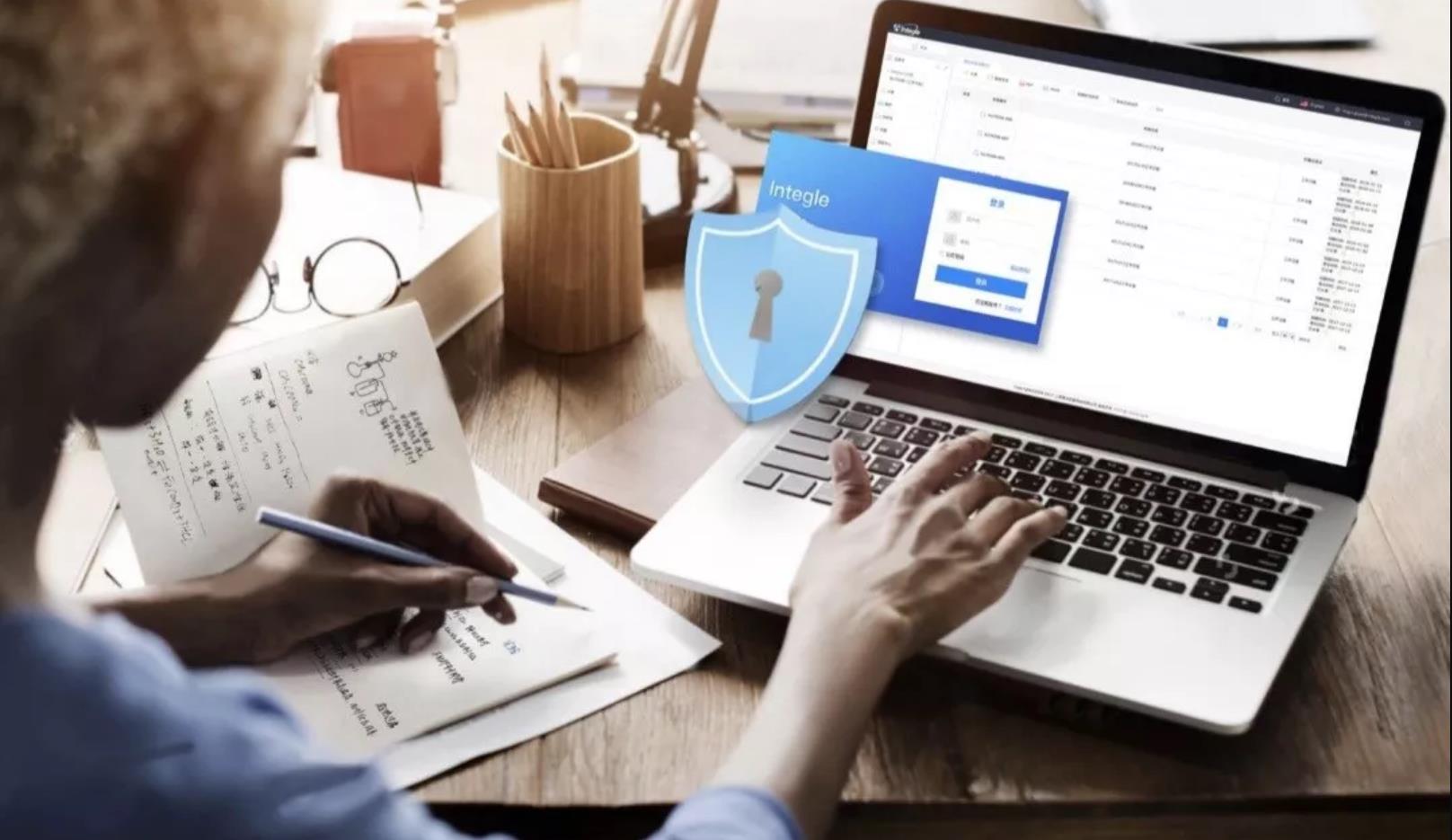 ELN Definition
Laboratory notebooks are usually used by scientists, engineers, and technicians to record data such as experimental research protocols, experimental operations, and experimental results. In terms of validity, it can be used as legal document and evidence in regulatory agencies. For example, as an experimental record of scientific and technological inventions and discoveries, it is often used in patent litigation and intellectual property litigation. At present, the laboratory notebooks are existing in two major forms: paper laboratory notebook (PLN) and electronic laboratory notebook (ELN). The former has been used for hundreds of years while the latter began to be popular in the 1990s and be created at the beginning of the 21st century. According to the definition of the "Collaborative Electronic Recording Systems Association" (CENSA), ELN is an electronic experiment record system that meets all laws, regulations, technical and scientific professional requirements and is used to create, store, retrieve and share complete data. [1] According to the definition of Atrium Research, a digital laboratory consulting agency in the United States, ELN is a secure and reliable software system that aggregates experimental data from multiple sources, supports the recording of the entire process and results of an experiment, and packages it into lawful and regulatory approved documents that support data search, mining and collaboration. [2]
ELN Application Range
According to Michael Elliott et al, 2008 research [2] found that scientists spend about 50% of their time processing data and information related tasks.
A survey of "where has time gone" by Medicinal Chemists in 2004
| | |
| --- | --- |
| Task | Time occupying ratio |
| Data and information processing | 45% |
| Experiment design and execution | 33% |
| Meetings and administrative affairs | 24% |
A survey of "where has time gone" by Biologists in 2006
| | |
| --- | --- |
| Task | Time occupying ratio |
| Data and information processing | 48% |
| Experiment design and execution | 36% |
| Meetings and administrative affairs | 16% |
A survey led by atrium research [2] in the United States shows that 94% of scientists believe that there are challenges in traditional paper data management (Figure 1).
Experimental data management survey led by Atrium Research
In scientific research, communication among researchers, funding agencies, industry organizations and the public is essential. Scientific ideas need to be shared, verification needs to be disseminated, plans need to be discussed, scientific research processes need to be recorded, and errors need to be corrected in a timely manner. If researchers work alone and cannot disseminate research results, their research value will be greatly reduced in the scientific community. [3] True scientific records are powerful evidence of intellectual property protection and legal validity. Historically, paper-based experimental records and paper-based scientific papers have aalways been the core of scientific inheritance and dissemination. However, digital technology, especially the digital technology integrating the Internet and the network, is gradually replacing paper-based records to allow science, technology and knowledge transfer faster and more effective. [4]
The emergence of ELN provides a complete solution to these problems.
ELN can promote the timely, accurate and complete recording of experimental records, facilitate long-term storage, realize the use of cross-platform (desktops, laptops, tablets, mobile phones, etc.), improve the compliance of experimental standard operating procedures (SOP), support intellectual property protection, promote collaboration and scientific openness that can bring tangible benefits to researchers. ELN avoids inefficient manual transcribing and can be used by research teams in different places. It is easy to manage, collaborate and standardize experimental records, improve the quality of records, and simplify the integration and sorting of digital resources (including instrument data and analysis results). [4] The leading ELN system is supporting more advanced data structure, data mining and intelligent analysis functions.
The use of ELN has significantly improved the productivity of researchers, peer reviewers and R & D executives. For example, in scientific research and development, the time spent searching for patent data and complying with regulatory processes will be reduced, thus freeing up more time for other R & D tasks. If ELN is integrated with other laboratory information systems, such as compound registration management, biological sample registration management, biological analysis, drug safety evaluation, and drug activity testing, ELN will also be deeply connected to more real, complete, and interconnected data. [5] A 2011 Atrium Research report showed that the use of ELNs by scientists has facilitated the search and reuse of information, as well as more effective collaboration. Compared with the paper recording process, it can effectively improve R&D efficiency by 20%. [6] It means that if there is a R & D team of 100 people, 20 R&D forces will be available for more R&D projects or more in-depth research. Otherwise, it means millions of funds and time opportunity costs lost every year. Losses are not conducive to the improvement of competitiveness. According to Vines et al, 2014, by using PLN, the average annual data loss rate is as high as 17% due to the effects of staff turnover, moisture pollution, and mold worms. [7]
ELN Categories
ELN is distinguished by its complexity, which can be divided into basic, professional, and high-end versions.
When considering the switch from a PLN to an ELN, it is necessary to determine your expectations for ELN firstly and match them with existing resources. Table 1 summarizes the main characteristics of three ELN versions. [8]
ELN Basic version is a word processor or word recording system. It is cheap, easy to use with many features of traditional lab notebooks. Its major weakness lies in legal compliance lack of audit trail so that it fails to be the evidences source protecting the intellectual property and getting approval from the Agencies like FDA.
Besides the regulation compliance, ELN professional version has more powerful features. ELN has to satisfy the requirements of Intellectual Property protection from Intellectual Property Office or the Agencies such as FDA. Its features such as audit trail and e-signatures have to fully comply with the electronic records specifications of US CFR 21 Part 11, GMP computerized system requirements, Annex 11 in Eudralex Volume 4, etc. Meanwhile, ELN professional version allow access control management within organizations and could effectively integrates the raw experimental recording data.
In addition to all the features of other ELN versions, the high-end version must also satisfy the professional requirements of chemical and biological experiments. For example, it must have ChemDraw or InDraw molecule editors, diagrams, flowcharts etc.; standardization, template configuration, and data structuring, Labelling, etc.; abilities to be connected to the other laboratory systems or modules such as laboratory information management system (LIMS), inventory management or laboratory equipment such as microscopes, sequencers, etc.
Comparison of ELN features in three different versions
Basic version

Professional version

High-end version

enter text

Incl. all the features in basic version

Incl. all the features in professional version

Records can be used on multiple devices and be stored in the cloud also.

Powerful search via text or advanced search

Powerful and specific search via chemical structure, advanced search, gene sequence

Powerful search via chemical structure or advanced searchAttachment is allowed

Role-based access control management

Role-based access control management

Features like standardization, template configuration, labelling, metadata, etc.

Attachment can be read online and downloaded

Legal compliance with 21 CFR part 11

Store all the historic versions of records

All revisions must have trails.

Need to e-sign when the record needs to be sign and close.

Need to get approval when re-open a sign and closed record.

GMP/GLP/GCP complianced

Integrated with compound registration, biological sample registration and reagent inventory management modules

Connected with LIMS in both directions

Docking with instruments and equipment or the docking module of central server

Copy and paste pictures

extendable and provide API

Suitable for chemical and biological experiments, including features such as ChemDraw or InDraw, schematic diagrams, flowcharts, etc.

Support text search

Sample receiving and task assignment between colleagues or collaborators

Configurable approval process, sign & close process, system login log, view log, download log, operation log, administrator permission change log




Records can be shared within or out of organization.

Connecting to inventory management module

Support sample and location management in simple way

Data analysis and mining

Aggregating and clustering structured data

Example: MS Office Word or Evernote

Example: InELN for acedemy, Benchling, Labfolder, Labarchives

Example: InELN, E-notebook, IDBS, BioviaELN
In terms of application areas, ELN can be divided into four specialized categories: chemistry, biology, QA / QC, and multidisciplinary (Figure 2). Special features required by different specialized category, such as a molecule editor which is compatible with cdx / cdxml format, IC50 calculations, structured processes, etc. Multi-disciplinary means that the ELN can be used in multiple disciplines and is a general type of ELN. ELN suppliers normally start from a segmented professional field and gradually extend to general multidisciplinary. For example, E-notebook and InELN started in the field of chemistry, and gradually became involved in other disciplinary fields when they become mainstream suppliers; IDBS started in the field of biology; Provantis started in biopharmaceutical safety evaluation (toxicology) and became the major suppliers in their segmented fields.

ELN main applicable areas
ELN Services
ELN has three product service forms: locally deployed C/S architecture, locally deployed B/S architecture and cloud service B/S architecture.
Locally deployed C/S architecture: client software + local server. ELN client software is required to be installed on the personal computer, in the meanwhile ELN server software and database must also be installed on the client server. It is not supported on mobile phones.
Locally deployed B/S architecture: a local server or cloud server are both fine as long as the user's computer has a browser installed. ELN can be used across desktops, tablets, mobile phones or other portable devices.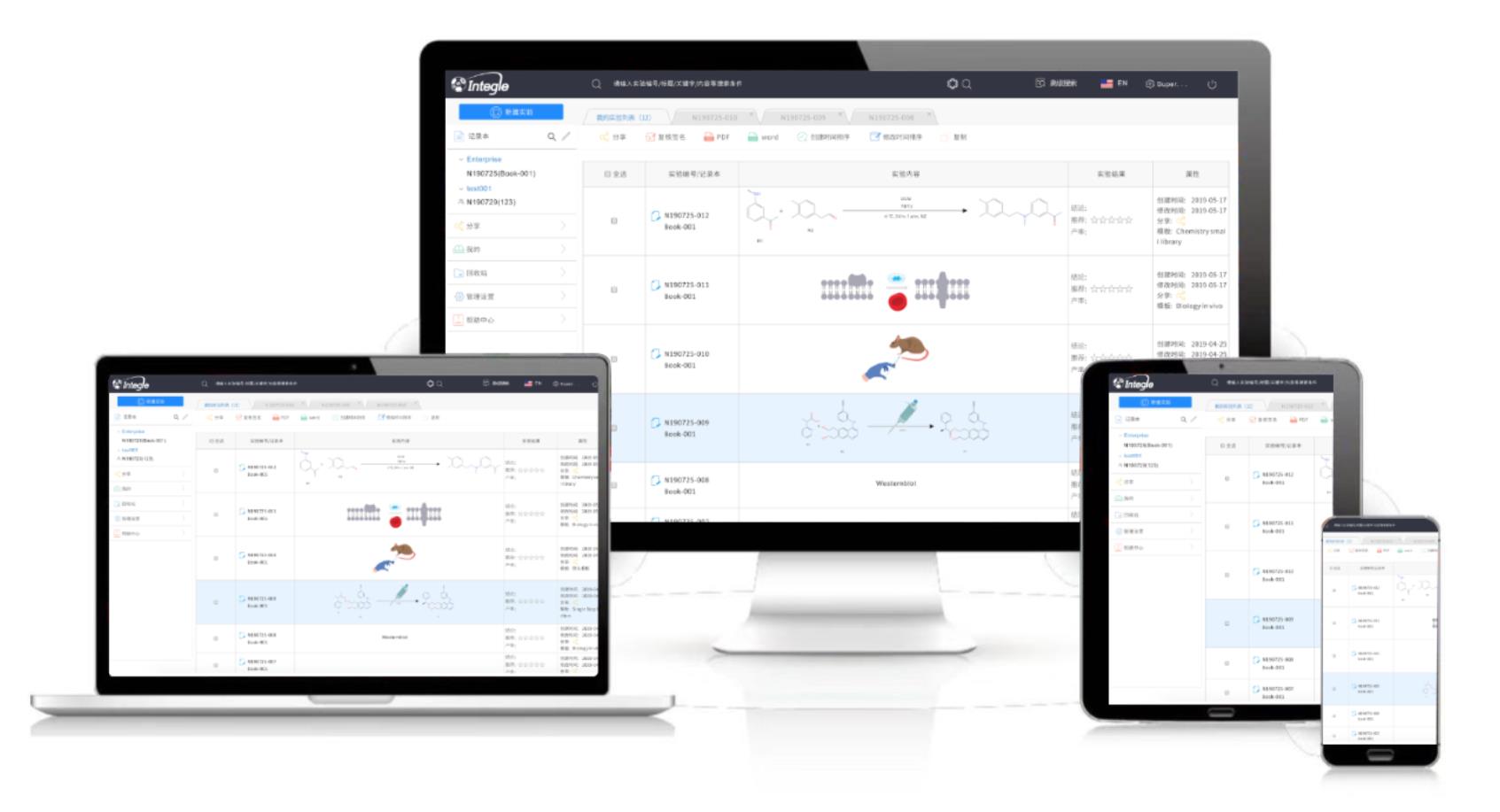 B/S architecture of cloud services: a cloud service model based on the B/S architecture. Renting cloud ELN software services in order to avoid the need to deploy ELN software locally on customer's server.


ELN Composition
ELN mainly consists of the following modules:
People management module is to manage the personnel login, password, authority, team, etc., and be available to open API.
Recording management module is to manage the laboratory notebook and page supporting text, table, file, picture, electronic signature, sign & close, comment, statistical analysis, read or write only permissions, co-authoring, etc.
Template management module is to configure commonly-used formats, frameworks, content, processes through templates or sub-templates supporting free custom development or custom configuration。
Collaboration module is to be able to search such as text, tables, chemical structures or documents as fundamental level features as well as advanced features such as comments, sharing, and co-authoring, etc.
Security module is to ensure data security through network security measures, physical security measures, reading marks, permission control, time control, IP control, etc.
Witnessing management module is to manage sign & close, protocol preview, automatic reminder, mandatory witnessing, notifying others, etc.
Project management module is to manage project establishment, process control, project time, performance analysis, success and failure analysis, regular progress reminders, etc.
Import and export access setting module is to manage the input and output access of printing, customized print settings, permission control, pdf / word / sdf / excel / cdx / cdxml / int format conversion, etc.
Audit management module includes audit trail, role setting as auditors, feedback, e-signatures, etc.
Archive management module is to form a data disaster recovery and recovery plan by data archiving, regular backup, real-time backup, etc.
Applicable Areas
ELN is applicable to be used in the laboratories or organizations in the below areas:
§ The research laboratories covering the industries which include but not limited to biopharmaceuticals (biology, pharmacology, pharmacy, toxicological safety assessment, drug metabolism, etc.), chemistry, CRO, CDMO, CMC, materials, petrochemicals, fine chemicals, polymer materials, new materials, new energy, fast moving consumer goods
§ The university/college laboratories, the research institute laboratories in academic field
§ The investing companies or institutions which involves in the new drug, new material, fine chemical fields, etc.
§ The governmental agencies such as Special Science and Technology Management Office, Scientific Committee, Science and Technology Fund Center, etc.
Legal Compliance
ELNs that comply with regulations should meet the following requirements: [5]
§ Must ensure the relevance, accuracy, authenticity and reliability of electronic records;
§ Must ensure the integrity of electronic records by establishing processing and implementing standard operating protocols(SOP);
§ Capable of e-signing the records in timely manner by author, witness, reviewer and approvers;
§ Capable of retaining audit trails for record creation, modification, review and approval;
§ Capable of locking records after sign & close in order to prevent arbitrary changes;
§ Capable of keeping the revision of the record not erasable and remaining permanently linked between the record and its revision;
§ Capable of controlling data access through a combination of user name and password;
The applicable legal requirements for ELNs are mainly below:
FDA, NMPA and Eudralex have published regulations related to electronic records for R&D activities in the regulated industries such as medical devices or pharmaceuticals. The purpose of the regulations is to ensure that records are complete in terms of time, author identity and content, and that data is not falsified. These requirements are included in FDA 21 CFR 820 medical device regulations and FDA 21 CFR Part 11 electronic record regulations. NMPA of China issued the "Non-clinical Research Quality Management Standards for Drugs" (State Food and Drug Administration Order No. 34) and the electronic data provisions related to computerized systems in the GMP as well as the Annex 11 in the EU GMP provisions. All these agencies have made regulations in order to endure
the accuracy, completeness and traceability of data, recognize the legal effect of electronic records. In addition to complying with regulatory requirements, to ensure its quality and suitability for the regulated industries is a basic requirement by developing and implementing any software.
ELN vs. PLN
Although paper retains some advantages in terms of portability and ease of entering records, ELN has many compelling advantages. For example, handwriting recognition and voice input technology, support for mobile devices, are offsetting the advantages of paper mobility and easy input. Under the trend that electronic signature is increasingly recognized, the legitimacy of ELN as evidence has been also recognized. The efforts of the business community and the government have proved that it is necessary to promote ELN as the main legal record for the organization. ELN can avoid manually transcribing existing electronic data, and can directly and real-time display a large number of multi-dimensional data generated in experiments. Moreover, ELN can be used collaboratively by geographically distributed teams with search and indexing features to help discover knowledge. [3]

The picture above depicts three different scenarios
Comparison of ELN and PLN parameters is as below
| | | |
| --- | --- | --- |
| Item | ELN | PLN |
| Authenticity | revision marks, audit trails | hard to prove |
| Timeliness | feasible, support ipad or computer close to instruments | feasible, handwriting |
| Big Data | available to apply | not available |
| Efficiency | copy, paste, 70% more timing-saving for writing records | ineffective |
| Search | in seconds | not applicable |
| Security | strict access control, intranet | data loss 17% every year |
| Storage | CD-ROM,hard disk | warehouse/library/ pest control and mildew proof |
ELN vs. LIMS
In the 2000's, ELN integrated more features of laboratory software, which eventually led to the boundary blurring of ELN concept. In early 2007, Scientific Computing World reported that scientists had different definitions of ELN, with 65% of them saying they "are not clear about the difference between LIMS and ELN". [10] In some vendors' products, you can see that the previously independent ELN software has now been integrated into their LIMS products. The LIMS that integrated ELN products are still in their infancy and are designed to meet the needs of simple electronic records in certain specialized areas.
LIMS and ELN belong to two different markets with different life cycles [10]
LIMS, as a workflow solution to support business transformation, is mainly targeted at specific areas, where efficiency and turnaround time requirements dominate.
ELN does not disturb or destroy the existing workflow and are independent with other systems instead of locking to each other. So ELN can be easily connected to other system, and can work independently. Here, people are more interested in the value of ELN, beyond their interest in workflow management and regulatory needs.
The ELN system is widely used in various data recording and mining scenarios. It is a general solution for intellectual property protection and knowledge management, not a workflow solution. ELN is more suitable for the innovative and changeable data recording in research & discovery lab, calculation and management, as well as the discovery and characterization of innovative methods and innovative samples. The samples here mainly refer to innovative and changeable chemistry or biologically active substances, which is completely different from LIMS.
LIMS takes the compliance of sample analysis and quality data management as the core to ensure that the data recording and storage of samples in the laboratory meet GMP regulations. The samples here refer to the samples produced mainly from research and discovery lab, which have been or will be used for the quality inspection of production. This type is generally relatively clear in structure, single in type, and described in more references. LIMS records the quality analysis process of sample preparation, analysis and testing, instrument docking, and analysis results. It connects other systems of the digital laboratory and instrument data with the sample as its center. QC laboratories, for instance, frequently use LIMS for batch and pipeline operations.
ELN can obtain information from LIMS, or connect the relevant information in ELN to LIMS. They need to be connected seamlessly, configured flexibly, and meet the requirements of laws and regulations. In short, ELN is more suitable for value discovery and innovation discovery in R & D stage while LIMS is more suitable for quality control in the development stage such as production or planned production stage.
In 2012, a survey of ELN users by Atrium Research showed that most people were satisfied with their ELN. In particular, synthetic chemists are quite satisfied with the benefits of ELN.
83% of users who have used ELN reported that they want to continue to use ELN. When investigating features that users think ELN can improve on, there are two obvious findings.
In recent years, people have been paying more and more attention to the performance and increasingly complexity of ELN problems. Feedback such as "too complex", "too much technical support required", "too difficult to manage and maintain", "many upgrade problems" are common questions. IT professionals are particularly frustrated by the continuous increasing demand in IT support services in order to keep systems running smoothly. For sure, the increasing demand for ELN features will inevitably increase the complexity of the system. Specially, the integration and docking information to LIMS or SDMS, for example, make this problem more complicated. The motivation to solve many different workflows through a single system environment has never stopped. ELN looks more and more like LIMS, and people are more worried that the main challenge in the implementation of LIMS over the years, i.e. complexity, is happening to ELN now. [11]
ELN Implementation
Before ELN is implemented, the following issues need to be investigated clearly. [6]
§ Investigate the needs of users at all levels within the company;
§ Make a purchasing choice of ELN product form, C/S, B/S or Cloud service;
§ Investigate the ELN purchase and implementation cost;
§ Implementation time;
§ Whether to dock with the instruments;
§ Whether to customize some features such as experimental template or other needs;
§ Understand the conflicts caused by user habits change due to ELN implementation;
§ IT technical capability evaluation;
§ User training, user training materials;
§ Develop the standard operation procedure (SOP) for the use of ELN;
§ Prepare a list of ELN users, permissions, software licenses, and administrators;
§ Linking project management with ELN;
§ Make sure the ELN product design requirements such as compatibility with cdx, chemical reaction, text editor, forms, permissions, security, etc.;
§ Make sure the ELN system performance requirements such as chemical structure search speed, access speed, support for the number of simultaneous users, design to prevent web page data loss, backup technology, etc.;
§ Make sure the server configuration requirements;
§ Conduct risk assessment to make sure that the supplier has the NMPA/FDA on-site audit experience/cases, supplier sustainable service capabilities, software stability, etc.;
§ Prepare testing and acceptance plan to ensure ELN meets product design and performance requirements;
§ Capability to execute computer system verification such as 3Q verification, CSV verification, etc.;
History of ELN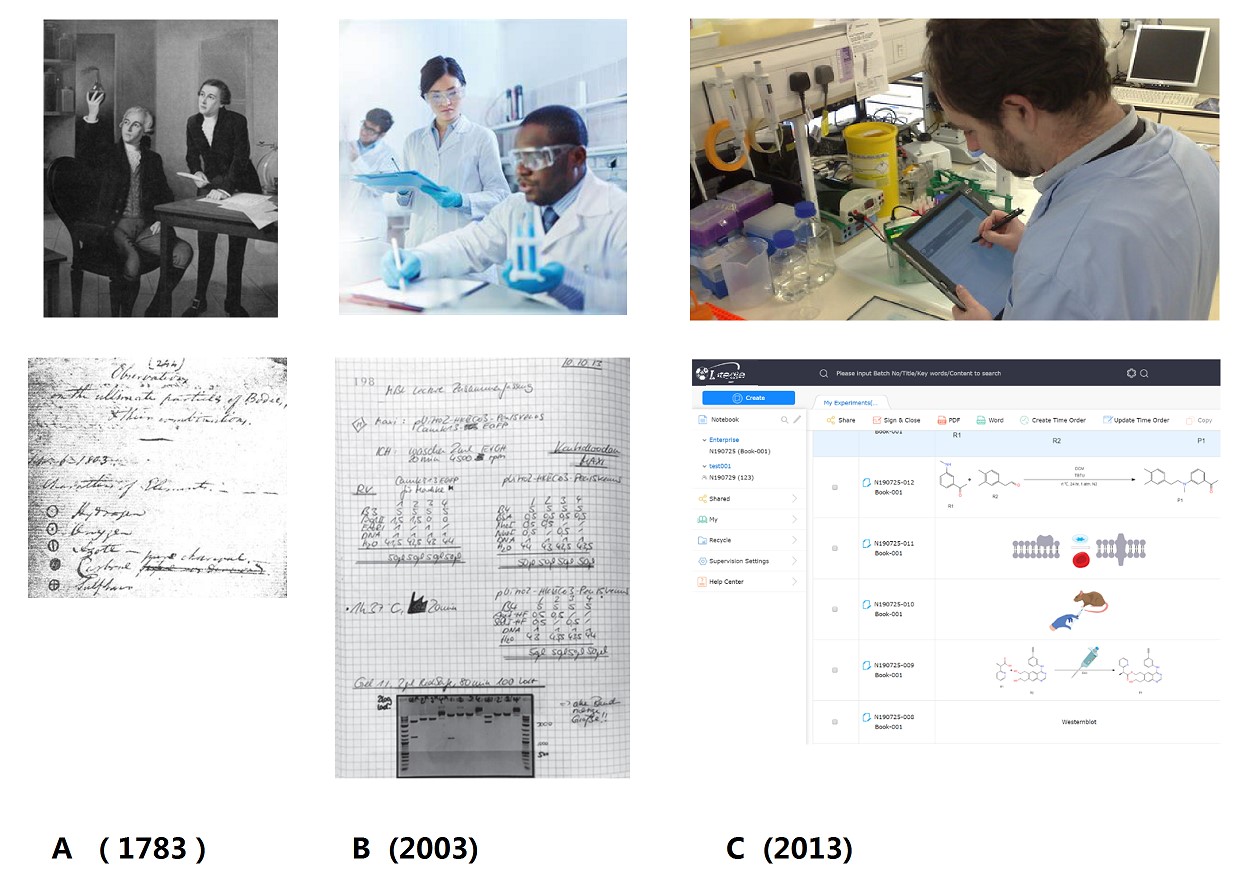 A: French chemist Lavoisier records experiments on paper; B: German famous professor Ingo Przesdzing in Charite University used PLN; C: The interface of a modern ELN brand
Scholars have particularly noted that in research laboratories, high turnover of post-doctoral students will lead to loss of information and experience. After the Postdocs leave the university, PI and directors in the university feel confused about the ins and outs of the data. ELN has changed this situation now. Even after the postdocs leave, the scientific research data generated in ELN is continuous and easy to be found out, quote and analyze, which promotes the accumulation of experience and reduces the time and material cost of many repeated failures.
In the mid-1980s, Dr. Raymond E. Dessy from Virginia Tech University began to conceive the concept of ELN. Until 1994, he created the first working example of ELN. The discussions on the topic about whether or not the laboratory notebook should transit from paper to electronic format have been in full swing in the early 1990s. During the 206th National Conference of the American Chemical Society in August 1993, the meeting was scheduled lasting for a full day to discuss "e-notebooks." "Frontline scientists will definitely welcome electronic alternatives to paper notebooks," said Dr. Raymond at the conference.
In 1997, a special interest group called the Cooperative Electronic Recording Systems Association (also named CENSA) was established. Supported by 11 major pharmaceutical and chemical companies, this alliance works with scientific software and hardware vendors to facilitate the creation of ELNs that meet the technical and regulatory needs of its members. The joint organization at the time envisioned a form of ELN that facilitated collaboration. A global team of scientists can be used to reliably collect, manage, securely share, permanently archive and search all common data and records that are developed and tested by member companies. The data produced by the laboratories which stored in ELN could openly and optionally be shared. "
In June 2000, the Global and National Commercial Electronic Signature Act (ESIGN) was introduced, ELNs which can meet regulatory requirements, began to have an impact on the industry. If ELN is responsible for providing evidence in the patent process and is also effective for other regulatory audits, a mechanism to verify the validity of electronic records needs to be established. The ESIGN Act specified that electronic records can be authenticated and electronic signatures are made legally binding, thereby confirming ELN compliance. ELN users can quickly organize and submit electronic records, so as to avoid tedious work and save time. They do not need to turn over paper notebooks, piles of documents and printed materials, and submit thousands of paper documents to FDA for review. Moreover, FDA does not need to turn over thousands of pages of documents. They can search and query, quickly extract documents, accelerate the review efficiency, and indirectly reduce the waiting for evaluation of pharmaceutical companies. Via ELN, accelerating the rapid marketing of new drugs and occupying the market shares ahead of time will help to obtain economic returns earlier. [9]
In July 2017, China's then CFDA (now renamed NMPA) director Bi Jingquan issued the "Non-clinical Research Quality Management Specifications" (Order No. 34 of the State Food and Drug Administration), which stipulated that electronic data can replace paper Data, and electronic signatures have the same legal effect as handwritten signatures. Since then, the number of ELN users in China has increased rapidly.
The enthusiasm for ELN began to rise again in the early 2000s. In September 2004, CENSA held an International Conference for Quality and Productivity (IQPC) in London to further integrate scientific experimental data into ELN with actual cases. During this conference, more powerful data integration and docking requirements were promoted and reinforced because the fundamental principle is that ELN will greatly improve business strategies by using information more intelligently together with decision support software. By the beginning of 2007, ELN professional version had driven market growth. Scientific Computing World estimated that about 83% of related organizations announced that they were interested in ELN, and 43% of which seriously considered evaluation or purchase ELN. Atrium research predicts that ELN's market will grow by 20% - 30% every year.
The Future of Laboratory Book
ELN will eventually be used by all R & D scientists to record all their research work, and will become their core application and core component of the future digital laboratory. Scientists hope to extract information from ELN effectively and easily, which brings great pressure on ELN's architecture. In the light of a business organization, ELN must be open, scalable and robust. In addition, ELN must be easy to use, simplify the user's workflow, and be fast to access. [6] In the field of drug discovery alone as an example, ELN must be able to process many different types of data, such as chemical structure, chemical reactions that can be compatible with cdx or cdxml format, experimental procedures, digital images, spectra and chromatograms, and biological sequences. Other industries also have opportunities to use ELN, for example in the field of computer-aided design image engineering.
In the future, ELN will need to integrate with other laboratory information and data tools such as LIMS, CDs and SDMS. Digitization is just the first step for ELN. It could be predicted that ELN will go through the stages from being IOT (Internet of Things), being intelligent, and eventually being completely automatic. With the increase of data, the trend of data intelligence development will be irresistible. People's access to data will gradually change from active mode to passive mode and even automatic mode. Based on the data accumulated by ELN, it will also vigorously promote the research and development of new drug discovery, new material, new energy, functional cosmetics chemical process optimization into a high-quality level and achieve a comprehensive improvement in productivity and competitiveness.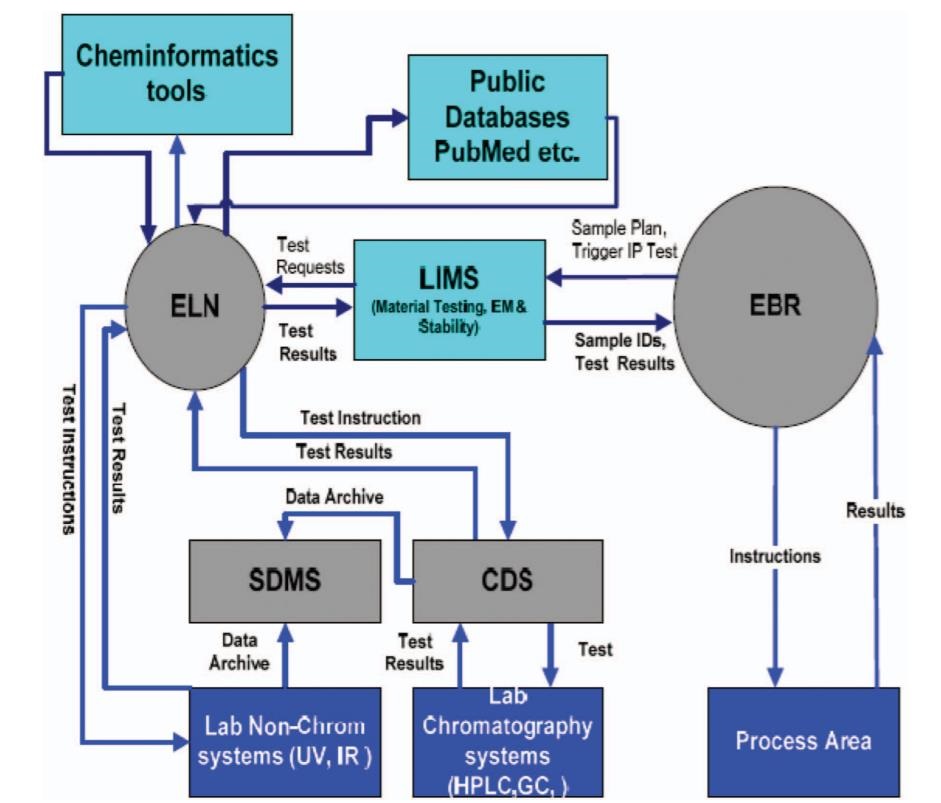 Electronic laboratory notebook–centric laboratory informatics tools integrations [6]
References
1. Michael Rubacha, Anil K. Rattan, Stephen C. Hosselet, A Review of Electronic Laboratory Notebooks Available in the Market Today, JALA, 2011, 90-98
2. Michael Elliott, Electronic Laboratory Notebooks: Electronic Laboratory Notebooks: Market and Technology Overview, ScientificComputing.com, 2008
3. Honolulu, Hawaii, USA. James MyersJames MyersElena S PetersonElena S PetersonB. Hoopes, Conference: Proceedings of the Fifth IASTED International Conference Internet and Multimedia Systems and Applications (IMSA 2001), August 13-16, 2001
4. Samantha Kanza1, Cerys Willoughby, Nicholas Gibbins, Richard Whitby, Jeremy Graham Frey, Jana Erjavec, Klemen Zupancic, Matjaz Hren, et al. Electronic lab notebooks: can they replace paper? Journal of Cheminformatics, 2017, 9:31
5. Ping Du and Joseph A. Kofman et al. Electronic Laboratory Notebooks in Pharmaceutical R&D: On the Road to Maturity. JALA, 2007, 12:157-65
6. Hari K. Machina, David J. Wild et al. Electronic Laboratory Notebooks Progress and Challenges in Implementation, Journal of Laboratory Automation, 2013, 18(4), 264–268
7. Timothy H.Vines, Arianne Y.K.Albert, Rose L.Andrew, et al. The Availability of Research