Top 7 Best Electronic Lab Notebook (ELN) in 2020
Science Is Facing Digital Revolution
With the development of information technology for the last decades, people are quite familiar with various electronic tools in their lives by which they can actually feel a great improvement and convenience in terms of life quality and work efficiency. In R&D area, scientists, who are the source of scientific and technological innovation, are also facing the problem of dealing with more and more massive data. Therefore, we cannot deny but have to admit that science is also facing a digital revolution at present.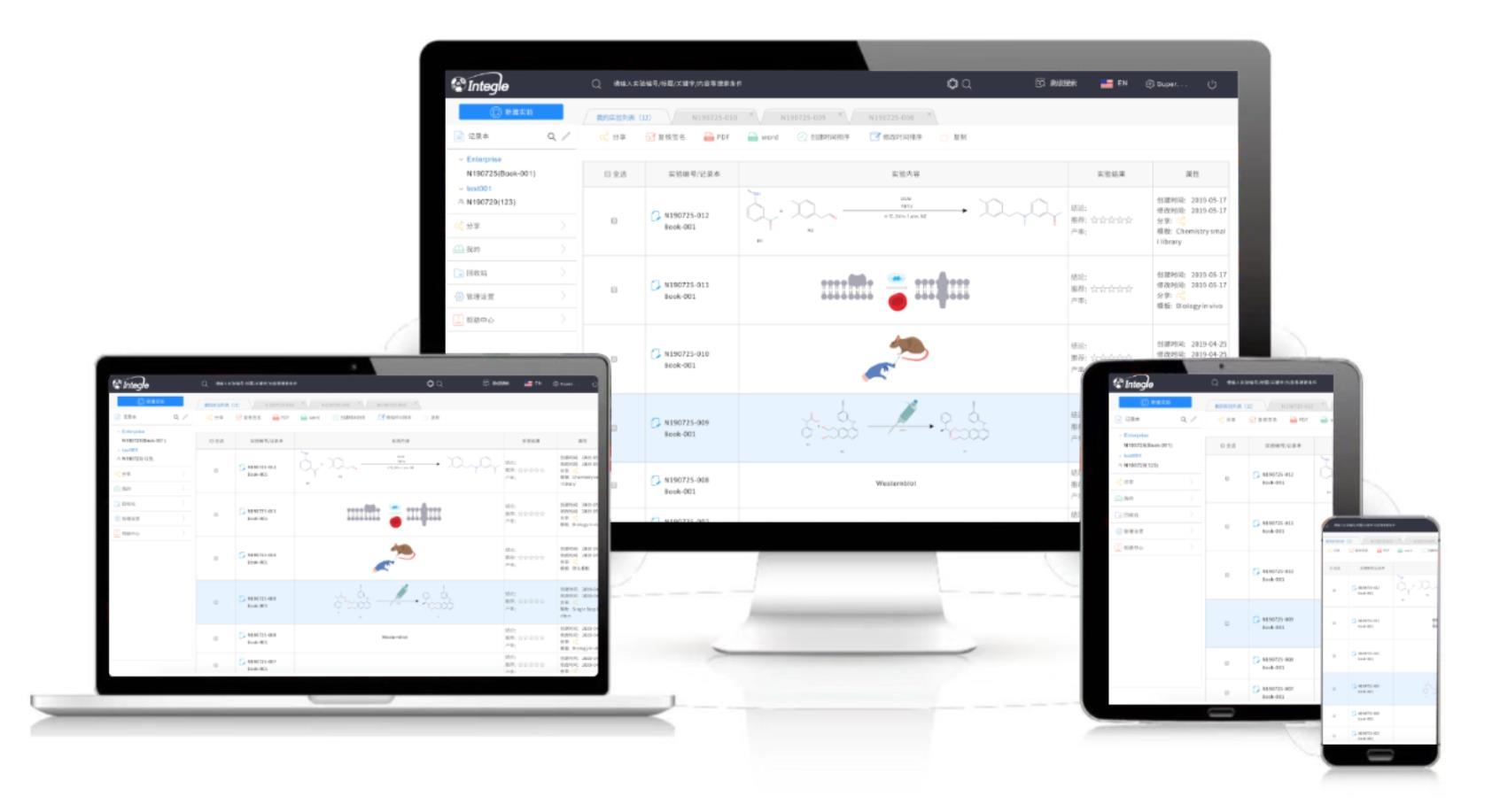 ELN can be used on computers, tablets and mobile phones
Recommendations for Top 7 Best ELN
There are dozens of ELN brands in the market which makes the researchers quite challenging to choose a suitable ELN brand. In this article, top 7 ELN brands will be presented and recommended that may give you a hand on your purchase choice. We will share with you the criteria and score that are considered and state the logic behind the criterial as well as some information sources.
Here we recommend 7 best ELN brands, 3 of them belongs to the first generation featured with CS architecture developed in early 2000s, 4 of them belongs to the second generation featured with BS architecture developed in early 2010s.
The first ELN generation
E-notebook from PerkinElmer, Inc. (From U.S.)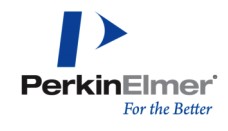 E-notebook comes from Cambridgesoft that develops laboratory informatics software, specializing in the chemical and pharmaceutical industries. PerkinElmer Inc. has purchased Cambridgesoft in 2011 and now operates it as its subsidiary.
Biovia notebook from Dassault Systemes SE (From France)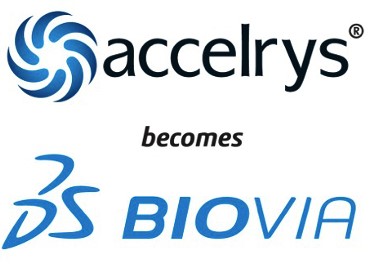 BIOVIA ELN, Formerly Accelrys ELN, Symyx ELN, provides software for chemical and materials research for the pharmaceutical, consumer packaged goods, energy and chemical industries.
E-Workbook from ID Business Solutions (IDBS) Ltd. (From U.K.)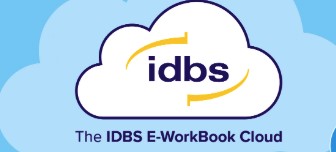 IDBS is a provider of software for research and development (R&D) organizations from various laboratories, especially in biology. In November 2017, IDBS was acquired by the Danaher Group.
The second ELN generation:
Labarchives research notebook (From U.S.)

Founded in 2009 in U.S, this company integrates publishing ideas in its ELN, part of the reason is because its founding team has intensive experience in publishing and academia. It provides different versions for academic, institutions and enterprise users on cloud basis.
Labfolder electronic lab notebook (From Germany)

Founded in 2012 in Germany which is based on a product concept of hierarchical file systems of desktop computers by connecting folders and data containers instead of traditional notebook paradigm. The user experience is more likely with working on a shared drive. It provides two plans to academic and corporate users. There is a free plan for the users which has quite smaller teams.
Benchling notebook (From U.S.)

Built in San Francisco and was founded in 2012 by 3 graduates from MIT. This ELN brand has been niche on biology area surrounding by digital DNA sequence, editing and designing together with experiment workflow, data analysis, and collaboration.
Integle Electronic lab notebook (InELN) (From China)

By scientist and for scientist, Integle Informatics was founded in 2013 by 3 principal scientists from the Big Pharma GSK. Due to founders have background in international Big Pharma, InELN is suitable both for enterprises and academics. Integle has completed 5 financing rounds and has been dedicated to provide integrated digital laboratory solutions for the laboratory R&D area. Integle has collaborated with more than 20 listed companies worldwide.
The criteria that we considered can be summarized in the table below: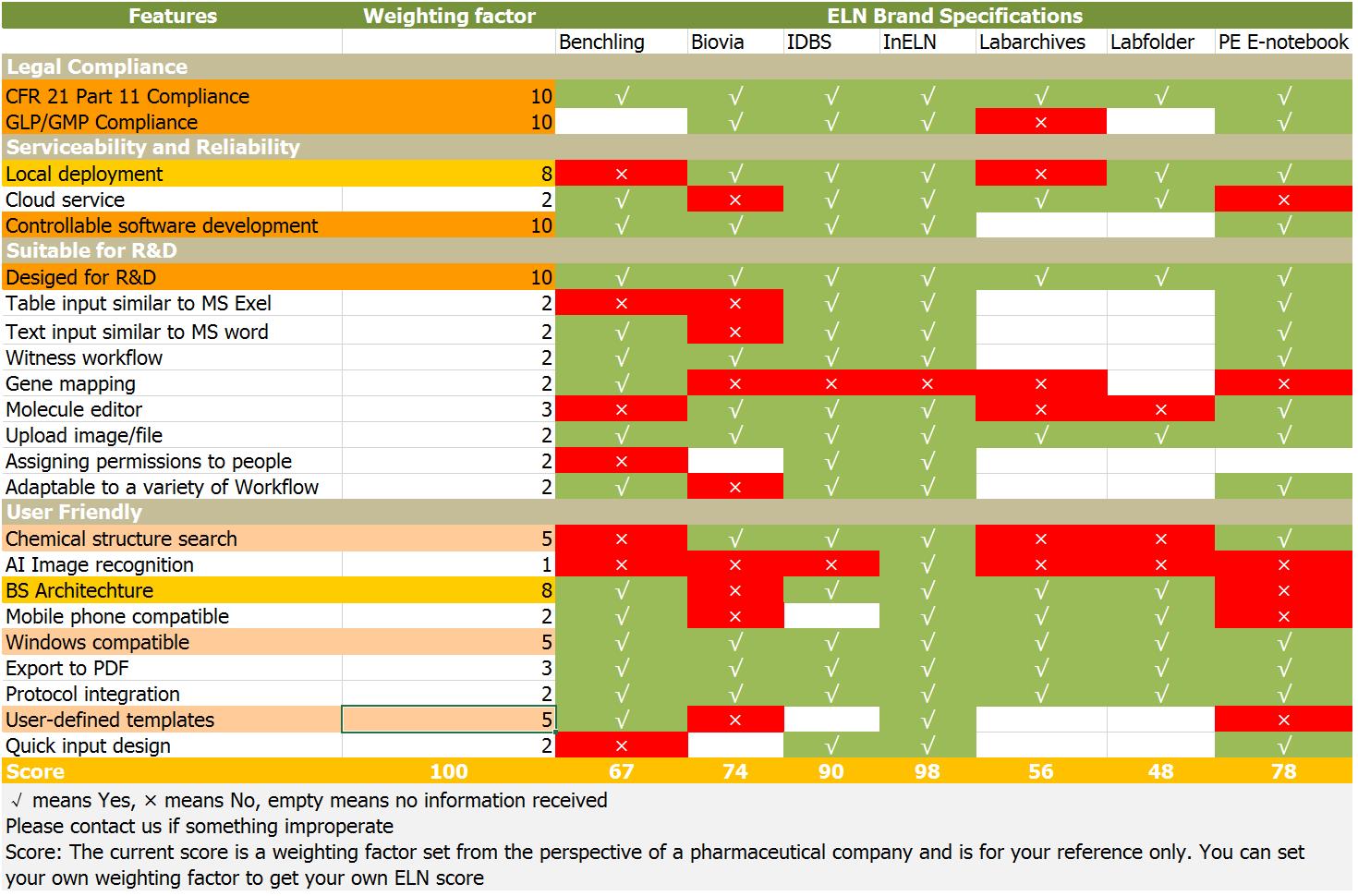 Data from surveys from Harvard University, Fudan University, University of Southampton and Nature (Roberta, et al)
1. Legal Compliance
We take legal compliance as the first and important criteria of the ELN brand selection. Essentially, compliance is the first concern before ELN replaces paper lab notebook (PLN). The fundamental function for ELN is used to record and manage knowledge no matter for which kind of organization it is. Eventually, overwhelming percentage of the knowledge need to be reviewed in intellectual property and government audit. This is mainly why in regulated industries, such as the pharmaceutical industry, research aiming for intellectual property, before they adopt electronic lab notebook, the government must issue regulations that recognize electronic records as a substitute for paper records, such as CFR 21 Part 11 of FDA in US, Non-clinical Research Quality Management Standards for Drugs of NMPA in China and the electronic data provisions related to computerized systems in the GMP, Annex 11 in the EU GMP provisions. So, we consider the legal compliance will be the first and basic criterial when choose the ELN brand for the long-term run.
2. Serviceability and Reliability
In nature, whatever the product is in cloud or locally deployed, ELN is a formal business service. After the organization has its own ELN, it takes time, usually many years, to accumulate knowledge as their data assets repository. For such not-short period, ELN brand's serviceability and reliability become significantly vital. The 7 brands we recommend here have either years of service experience covering the major countries of R & D markets, strong performance or reputation in their domestic market or even global market that have convincing customer cases including many listed companies, or recognized by venture capital showing that they are sustainable and reliable. Basically, we pick the 7 brands they are at least devoted to this area for more than 6 years. 3 out of the 7 brands are purchased by the big companies in the middle way that have the obvious advantages and disadvantages as a "big brand" while the 4 out of 7 as the second ELN generation are comparatively fresh with their strength and weakness. When you consider the purchasing, all you have to do is to balance their advantages and disadvantages and find the suitable one that really make sense to the organizations as well as the affordability. Generally speaking, they are pretty nice ELN brands.
3. Suitable for Research and Development
ELN is suitable for use in R & D. Due to the variety of R & D projects, diverse data types, diverse experiment types, and no fixed process, ELN must have a powerful text editor, table editor, molecule editor, gene map editor, and permissions features precise and flexible allocation.
There are bunches of other ELNs from instrument companies like Waters or Agilent that we do not consider to recommend is because we want to focus on the ELN brands that are specialized in the research, discovery and development phase. There are some users that feel confused about the LIMS and ELN.
The ELN system is focusing on finding new products or new methods, and does not exist for regulation compliance even if compliance is important aspect ELN should respect. So ELN is more suitable for the innovative and changeable data recording in research & discovery lab, calculation and management, as well as the discovery and characterization of innovative methods and innovative samples.
LIMS is used to meet the needs of government regulator and ensure that quality meets regulatory requirements. LIMS takes the compliance of sample analysis and quality data management as the core to ensure that the data recording and storage of samples in the laboratory meet GMP regulations. The samples here refer to the ones produced mainly from research and development lab, which have been or will be used for the quality inspection of production. LIMS records the quality analysis process of sample preparation, analysis and testing, instrument docking, and analysis results. QC laboratories, for instance, frequently use LIMS for batch and pipeline operations.
ELN can obtain information from LIMS, or provide APIs for LIMS to ensure data transfer. In short, ELN is more suitable for value and innovation discovery in R & D stage while LIMS is more suitable for quality control in the development stage.
4. User Friendly
Surely, for different organizations, different disciplines and different research directions, people might need different features. These dozens of ELN brands have provided many choices that really dazzle and hard to decide. Stanford University has conducted a comprehensive survey on the ELN brands available in the market that they could find on internet a while ago in the perspective of features that might give people some references even if the quantity of ELN brands is updating every year.
Before you jump into the very details of features, flexibility, intuitiveness and interoperability are most important aspects of features. Flexibility means that the ELN could have the capability to be compatible with different disciplines. After all, most of the organizations need interdisciplinary or even interdisciplinary cooperation unless the research direction is quite fixed. Intuitiveness means that the learning cost has to be kept at a low level. Human beings are naturally resisting the complicated things, not mentioning scientist has so much other work to do besides recording experiments. Interoperability means that ELN has the capabilities to extend to other lab scenarios such as inventory management, compound registry, project management, etc. These modules can interoperate with each other that actually will bring great value to the laboratory knowledge management in terms of efficiency, cost and long-term benefits. When users are directly trying out ELN or contacting with the ELN suppliers, please make sure the 3 aspects are 100% satisfying your needs.
These are reflected in the product's suitability for chemical, biological and other professional attributes, system compatibility and user experience. For example, whether it has structure search, intelligent image recognition, custom templates, quick input design, BS architecture, mobile compatibility, etc. The current score is a weighting factor set from the perspective of a pharmaceutical company and is for your reference only. You can set your own weighting factor to get your own ELN score.