InCMS, Integle Compound Management System
InCMS is designed for biopharmaceutical and chemical users to establish their own chemical and biological database. It is used for the registration and management of macromolecules and small molecules generated by internal R&D activities within organizations.
Users can DIY set up a customizable database template for the project, standardize the management of samples R&D information, calculate chemo-informatics, geochemical information, biological information as well as files and pictures upload, single or batch registration of macromolecules and small molecules, gene sequences, registration numbers modification, data analysis and screening, charts visualization, setting of approval process, sample management, access control and audit trail.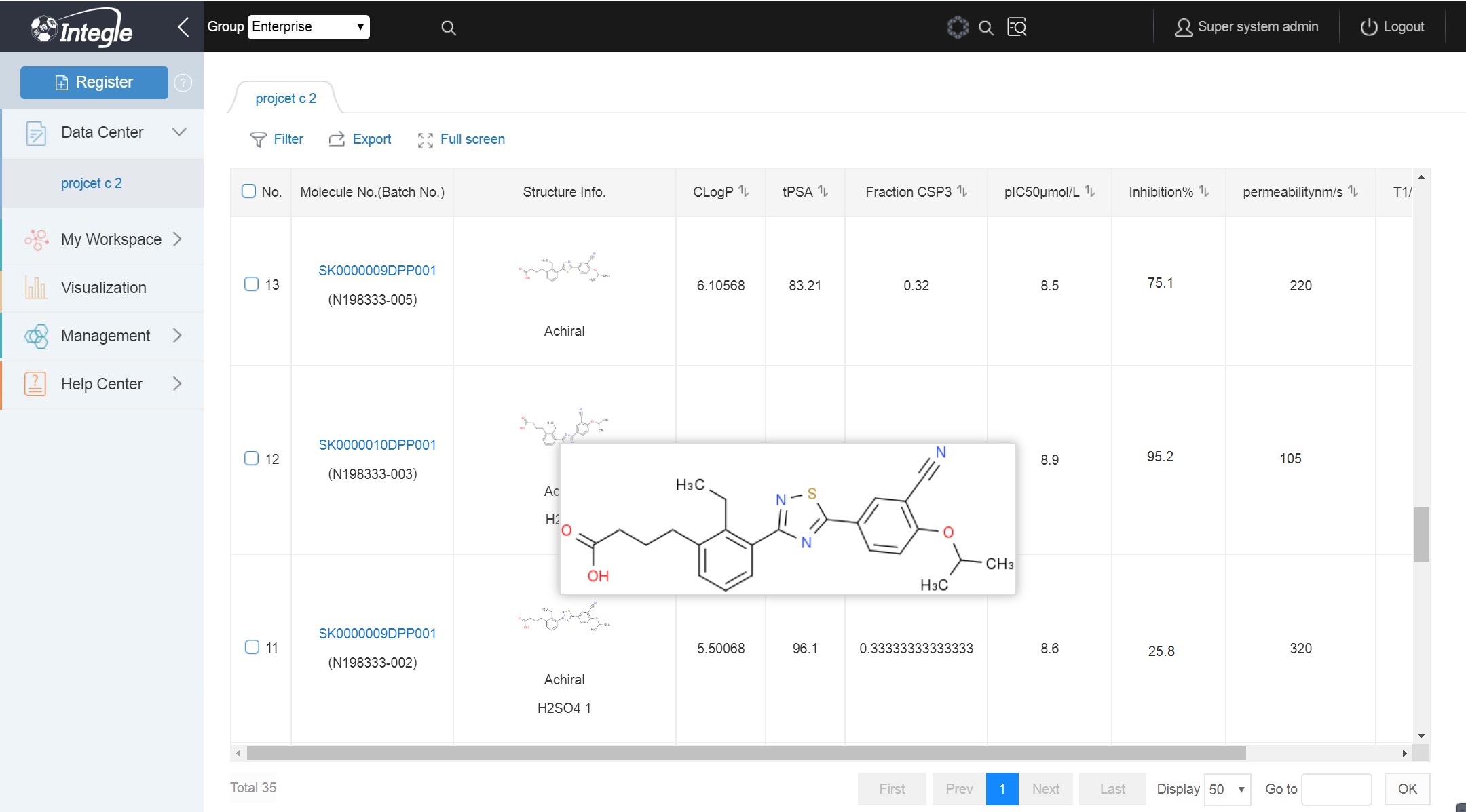 Within InCMS, users can achieve fast search via keywords and chemical structures. It is a beneficial tool to greatly improve data updates and sharing efficiency with data safety access control.
InCMS Features
1. InCMS supports single or batch registration of chemical molecules

2. InCMS supports single or batch registration of biological macromolecules

3. InCMS supports custom setting complex registration rules

4. InCMS supports automatic calculation of molecular weight, molecular formula, IUPAC name, cLogP, tPSA, Linpiski's rule of 5, etc.

5. InCMS can visualize the data, support the generation of two-dimensional, three-dimensional, four-dimensional and five-dimensional chart analysis, and customize the values of each dimension such as x, y, z, gradient color, grouping, etc.

6. InCMS can be used in a small team or in a group company. It can support multiple sets of registration rules.
7. InCMS supports administrators to modify the registered small molecule structure or biological macromolecular structure information data by themselves. The registration number will be updated according to the actual scene.
8. InCMS supports batch rupdate data of small molecules or biological macromolecules